Here at the Algae Shop we use Photo Bioreactors to produce our algae. We have developed a cheap yet efficient method to produce our algae exactly how we want it.Through our experience we have created the perfect living and growing conditions for each strain of algae we produce.
With the uncertain years ahead in the fossil fuel industry, algae is the one promising safe and efficient alternative source of energy we can depend on.
Algae uses photosynthesis to grow which means it eats CO2 from our atmosphere to stay alive. This will potentially prevent more CO2 from entering our atmosphere with the use of normal fossil fuels.
Out of all possible biofuels, algae will have the highest yield of oil giving it the greatest potential for large scale commercial biofuel production.
With a little more research and help from people like you, we can continue to develop these methods of algae production and oil extraction to be cheaper and easier for both home use or commercial production. We need your help to spread the word about this biofuel of the future!
Source: http://www.thealgaeshop.com/#!about.
Incoming search terms:
The world's oceans teem with unicellular algae that carry out photosynthesis in the sunlight. It has been known for a while that the particularly abundant diatoms (unicellular algae with a silicate frustule) are also able to survive in the dark bottom of the ocean, where neither photosynthesis nor respiration with oxygen is possible. Scientists of the Max Planck Institute for Marine Microbiology now disclose this artifice of the algae in the journal Proceedings of the National Academy of Sciences: In darkness, the diatoms breathe with nitrate in place of oxygen.
Microalgae often measure only a few hundredths of a millimeter, but due to their vast abundance in the world's oceans they are responsible for about 40% of the marine primary production, i.e., the biomass production via carbon dioxide fixation in the sunlight. They often appear as massive blooms near the sea surface or as greenish-brownish meadows on the sea floor, if still reached by sunlight. However, diatoms (unicellular algae with a silicate frustule) are also able to survive in the absence of sunlight and oxygen, for instance, buried in the sea floor. Anja Kamp, Dirk de Beer, Jana L. Nitsch, Gaute Lavik, and Peter Stief, scientists at the Max Planck Institute for Marine Microbiology in Bremen cultivated several diatom species in the laboratory to explore the metabolic process that allows the tiny algae to survive in darkness. A correlation was found between the nitrate that is stored by a diatom cell and its ability to survive in the absence of sunlight and oxygen. The more nitrate the cell contained, the longer it could survive in darkness where the cell does not have the possibility to produce oxygen via photosynthesis for its own respiration. In experiments with the coffee-bean-shaped diatom Amphora coffeaeformis, the scientists proved that diatoms use the nitrate stored in their cells for respiration in the absence of oxygen. Within just one day, most of the stored nitrate is used up, converted to ammonium, and excreted by the cell. A key finding of the Max-Planck scientists was that diatoms use nitrate just for respiration rather than for biomass production, as would be the case in sunlight. Anja Kamp says: "The rapid consumption of nitrate and the absence of biomass production tell us that nitrate respiration in diatoms is a metabolic process that only serves to prepare the cell for a resting stage and therefore nitrate respiration is not sustained for longer time periods."
In bacteria, nitrate respiration in the absence of oxygen is nothing exceptional, as many of the bacteria studied at the Max-Planck-Institute are able to breathe with nitrate, sulfate, or even iron compounds. It is more spectacular to discover that algae, i.e., organisms with a cell nucleus, are able carry out both photosynthesis and nitrate respiration, each under different environmental conditions. These results have just been published in the renowned interdisciplinary journal Proceedings of the National Academy of Sciences.Further inquiries to:
Dr. Anja Kamp; Phone: +49 421 2028 856; akamp@mpi-bremen.de
or to the press officer:
Dr. Manfred Schlösser; Phone: +49 421 2028 704; mschloes@mpi-bremen.de
Download: http://www.pnas.org/content/early/2011/03/09/1015744108.full.pdf+html
Original article:
Diatoms respire nitrate to survive dark and anoxic conditions. Anja Kamp, Dirk de Beer, Jana L. Nitsch, Gaute Lavik, and Peter Stief. Proceedings of the National Academy of Sciences of the United States of America. doi:10.1073/pnas.1015744108
Incoming search terms:
Plant and Algae Production Improvement Tools
When using photosynthesis as production system for biomass, raw materials can be obtained while simultaneously sequestering CO2. Our collection of micro-algae is used for the development of new solutions for biomass and compound production as well as CO2 capturing from flue gas. Our primary focus is on the production of storage oil and its bandwidth of fatty acids, enhancing productivity by means of molecular analysis and biotechnology.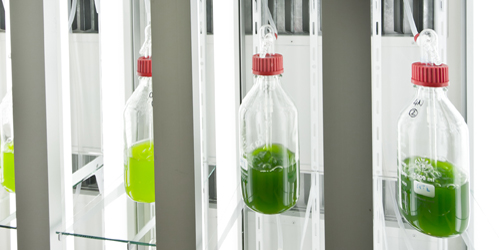 Another group of projects focuses on the exploitation of higher plants for the production of improved raw materials, healthy food, and increased biomass. We provide support to plant breeders through the development and implementation of customized selection procedures involving molecular genetic tools. Our small but highly specific in vitro collection of potato hybrids captures powerful and novel disease resistance genes. These genetic resources are explored at the molecular level and transferred to the breeding programs of our commercial partners. Similarly, we explore the molecular genetics of other important plant traits, such as the formation of starch macromolecules (potato) and wood density (spruce) and support our costumers in the implementation of innovative plant selection techniques.
Source: http://www.ait.ac.at/research-services/research-services-health-environment/molecular-screening-tools-for-microbial-and-plant-selection/plant-and-algae-production-improvement-tools/?L=1
Incoming search terms: