Algae and aquatic biomass have the potential to contribute to outstanding progresses towards a world-wide sustainable and low impact economy in developing a new range of third generation applications as bioenergy, biofuels (including jet fuels), animal feeding-stuff, all sort of bio-based products (such as bio-plastics, bio-cosmetics, bio-solvents, etc.) and also human nutrition.
Their high oil and biomass yields, widespread availability, absent (or very reduced) competition with agricultural land, high quality and versatility of the by-products, high protein content, their efficient use as a mean to capture CO2 and their suitability for wastewater treatments and other industrial plants make algae and aquatic biomass one of the most promising and attractive renewable sources for a fully sustainable and low-carbon economy portfolio.
The National Museum of Natural History (NMNH) is part of the Smithsonian Institution, the world's preeminent museum and research complex. The Museum is dedicated to inspiring curiosity, discovery, and learning about the natural world through its unparalleled research, collections, exhibitions, and education outreach programs. Opened in 1910, the green-domed museum on the National Mall was among the first Smithsonian building constructed exclusively to house the national collections and research facilities.
and here is an interesting project about algae…
Algae Research

Algae are photosynthetic organisms that occur in most habitats. They vary from small, single-celled forms to complex multicellular forms, such as the giant kelps that grow to 65 meters in length.. The US Algal Collection is represented by almost 300,000 accessioned and inventoried herbarium specimens.
BIO is the world's largest biotechnology organization, providing advocacy, business development and communications services for more than 1,100 members worldwide. BIO members are involved in the research and development of innovative healthcare, agricultural, industrial and environmental biotechnology products. Corporate members range from entrepreneurial companies developing a first product to Fortune 500 multinationals. We also represent state and regional biotech associations, service providers to the industry, and academic centers. The mission of BIO is to be the champion of biotechnology and the advocate for its member organizations – both large and small.
Source: http://bio.org/aboutbio/
Plant and Algae Production Improvement Tools
When using photosynthesis as production system for biomass, raw materials can be obtained while simultaneously sequestering CO2. Our collection of micro-algae is used for the development of new solutions for biomass and compound production as well as CO2 capturing from flue gas. Our primary focus is on the production of storage oil and its bandwidth of fatty acids, enhancing productivity by means of molecular analysis and biotechnology.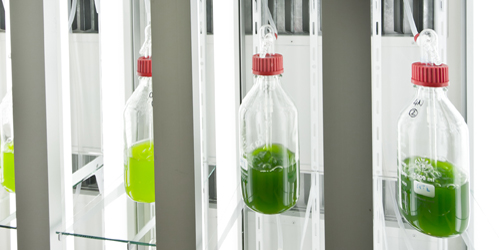 Another group of projects focuses on the exploitation of higher plants for the production of improved raw materials, healthy food, and increased biomass. We provide support to plant breeders through the development and implementation of customized selection procedures involving molecular genetic tools. Our small but highly specific in vitro collection of potato hybrids captures powerful and novel disease resistance genes. These genetic resources are explored at the molecular level and transferred to the breeding programs of our commercial partners. Similarly, we explore the molecular genetics of other important plant traits, such as the formation of starch macromolecules (potato) and wood density (spruce) and support our costumers in the implementation of innovative plant selection techniques.
Source: http://www.ait.ac.at/research-services/research-services-health-environment/molecular-screening-tools-for-microbial-and-plant-selection/plant-and-algae-production-improvement-tools/?L=1